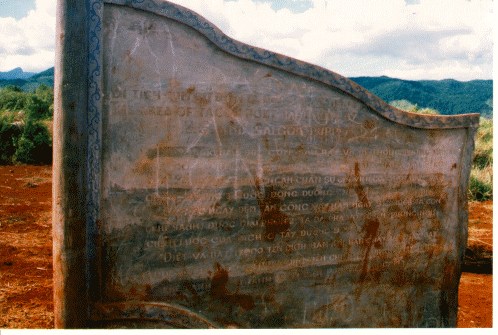 "Victory" Monument at Khe Sanh Combat Base
This picture was taken on (date) in the former Khe Sanh Combat Base. Read Peter Brush's essay on his return to Khe Sanh by clicking Here .
The following is a translation of the Monument, provided by Peter Brush.
---


                     LIBERATED BASE MONUMENT
 
           THE AREA OF TACON PONT [sic] BASE BUILT BY
                    U.S. AND SAI GON PUPPET.
 
   BUILT 1967. AIR FIELD AND WELL CONSTRUCTED DEFENSE SYSTEM.
     CO LUONG [town] DONG HA [county] QUANG TRI [province].
     U.S. AND ARMY PUPPETS USED TO MONITOR THE MOVEMENT AND
             TRIED TO STOP ASSISTANCE FROM THE NORTH
          INTO THE BATTLE OF INDO CHINA (3 COUNTRIES).
     AFTER 170 DAYS AND NIGHTS OF ATTACK BY THE SURROUNDING
   LIBERATION ARMY, TACON (KHE SANH) WAS COMPLETELY LIBERATED.
        THE LIBERATION ARMY DESTROYED THE DEFENSE SYSTEM
                  FOR THE BATTLE OF INDO CHINA.
       112,000 U.S. AND PUPPET TROOPS KILLED AND CAPTURED.
                    197 AIRPLANES SHOT DOWN.
          MUCH WAR MATERIAL WAS CAPTURED AND DESTROYED.
          KHE SANH ALSO ANOTHER DIEN BIEN PHU FOR U.S.5

---
Click Here to see the location on a map.
Here is a full screen, high resolution picture of 1024 x 688 pixels. You will need an external viewer to see this picture. The file size is 423K, so it will take a few seconds to load.
---
---