Cliff Treese at Khe Sanh
---
I met Cliff Treese at a KheSanh Veterans' reunion in September of 2000. His story about courage and his wounds at KheSanh compelled me to write his story for all to see about what went on during the Siege of KheSanh in 1968 and his struggle against all odds to survive.
He was a young Marine with B/1/13 105 Guns and wounded twice within hours, losing an arm the second time. His family was told he was dead. His story ends up a happy one unlike many who served at KheSanh.
Cliff is one hell of a Marine.
Semper Fi
Jim Wodecki
---
I arrived in Viet Nam in June 67 and was placed in Bravo Battery, 1st battalion, 13th Marines. I was an assistant gunner on a 105, a Vietnamese interpreter, and a gun truck driver.
---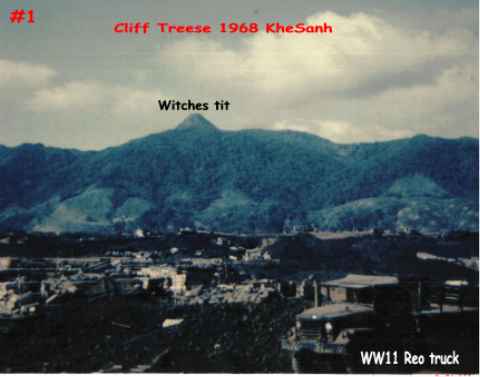 Picture #1--This is a picture of the remains of a C-130 wing with my truck in foreground. You can see some of the other guns in their pits. My truck was an old WWII Reo. It had a 6 cycle with a 5-speed trans with a hi-lo split shift. The peak of the mountain in back ground was called the Witches Tit.
---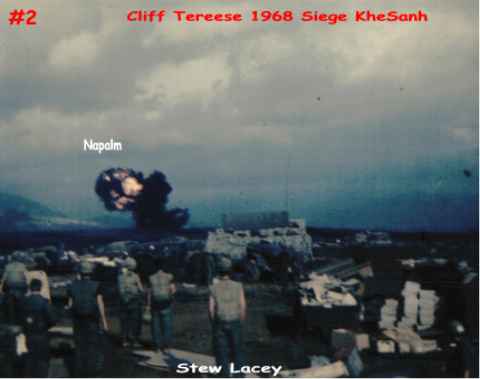 #2--This is two pictures of a napalm explosion that our jets had just dropped. The guy in the center of the picture with his hands in his pockets is Stew Lacey. He made it back from Nam in one piece only to be murdered while camping near his home town of Pomona, California.
---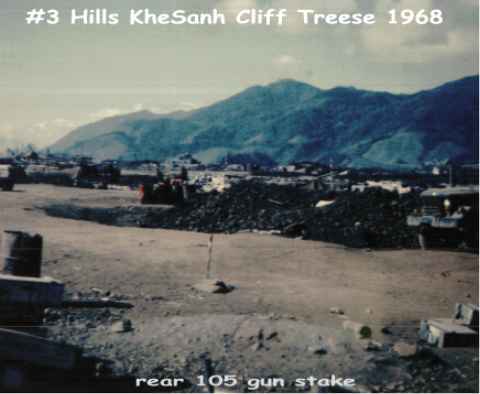 #3--This is just a picture of the area looking back from my gun pit. The aiming stack is our rear stack. You can see that just about everything is underground.
---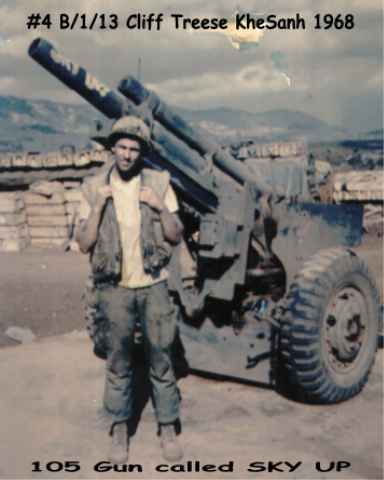 #4--This is a picture of me taken and mailed out to my family only a few hours before I was wounded twice in a matter of about 2 or 3 hours. I had those trousers and t-shirt-shirt on for over a month.
That was my 105 behind me; we called it SKY UP. It was the only original 105 still attached to our outfit since WWII. It had come back to our unit shortly before I arrived with unit in 1967. We had the records that said the tires and tube had been changed, but the cradle was the original.
---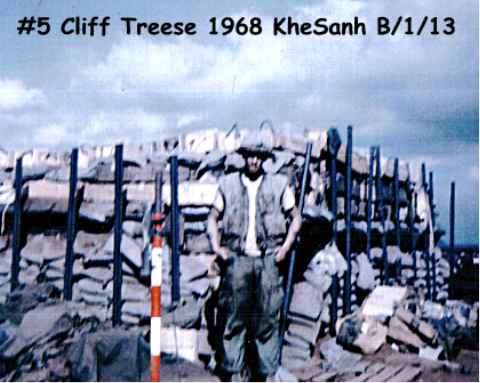 #5--This is another picture of me standing by our bunker. The roof was about three-foot thick, and the walls were three layers thick. This bunker took several hits by artillery and one rocket hit.
---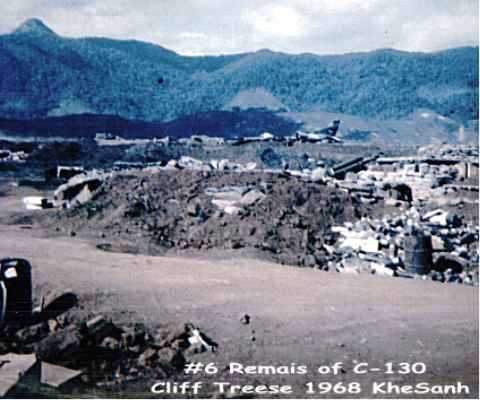 #6--This is the remains of a C-130 that was blown up by mortar fire while landing. You can see the Witches Tit in the background. I was waiting by the runway when this plane blew. The force of the explosion knocked us over.
---
#7--This picture was taken from the entrance of my gun pit. The bunker is the one our gun crew stayed in when we got a few minutes to try and sleep. All the ammo boxes are from a fire mission we had. We didn't have time to clean up the area.
---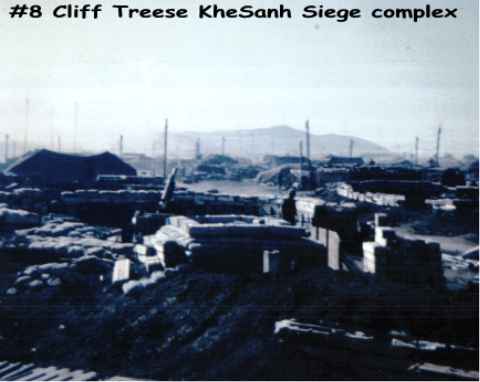 #8--This is just a picture of Khe Sanh Combat Base. This was taken shortly before I was wounded in February 1968.
---
#9--This picture was taken while we where being shelled by the NVA. I was standing by my bunker taking pictures of the shelling when I heard a noise close to my head. It was a large hunk of red-hot shrapnel stuck in the sand bag next to my head. Needless to say, it was my last picture.
I was wounded twice on 11 Mar 68. The first time was at about 9 am by shrapnel from incoming artillery rounds while in the middle of an artillery firefight. I received about a dozen small pieces of metal up and down my left side. I was taken to Charlie-med where they removed all the metal, filled the holes with methialade, and taped the holes shut.
I returned to my area and was told to get myself some Cs and take my truck to the ammo dump and load it up. They said they expected a big hit that day. I went and loaded my deuce-and-a-half with more than 7 tons of ammo. I had 8 pallets of 105 ammo with each pallet weighing about 1,700 pounds.
I got back to my area and jumped up on top of my truck to break the bands around the pallets. As I reached for the first box, somebody yelled INCOMING. Before I could move, a rocket hit my truck -- a direct hit in the driver's compartment. The force of the explosion blew me about ! 50 feet from the truck. As I was flying through the air, the ammo on my truck blew.
I remember hitting the ground and having the wind knocked out of me. As I regained my breath, I tried to get up but saw that my right arm was blown off at the elbow. I grabbed what was left of my arm and attempted to get up, only to lay back down with extreme pain in my right side. I let go of my right arm to feel my side only to discover my flak jacket was almost completely gone, and I had a hole big enough to put my fist inside. I grabbed my arm again and laid down and hoped a corpsman would get to me soon.
As a few ran by me, they patched me up as best they could as I was being loaded onto a stretcher. I told somebody to pick up my glasses, and that's when I saw my arm about 6 feet from me. I told somebody to pick up my arm; it was placed on top of my body as I was taken to Charlie-med. I had several needle marks in my leg -- morphine.
The doctor chose not to knock me out. I was awake during the re-attachment of my arm. I talked to the doctor until they started cutting me open down the center of my chest. That's when I passed out and woke up as I was being put on a chopper. I went to Dong Ha for more surgery and than was sent to Danang where I was placed in the death ward, as some called it. I saw many die while there. I was there for almost 4 weeks.
Three days after arriving there, a Red Cross lady came to my bedside and told me that a phone call home was arranged for me. I remember an operator saying to my mom that they have a long distance call from Cliff Treese in Vietnam. My mom had already been notified that I was killed in action because they didn't think I would live past the first day. My mom told the operator, "Who is the practical joker; my son was killed three days ago."
I yelled, "Mom, it's me; I'm alive."
I remember her crying as we first started to talk!
While in Danang, Brig. Gen. Kern came to my bedside and presented me with the Purple Heart w/gold star. When I left Danang, I flew to Clark Air Force Base in the Philippines. I spent 3 weeks there and after many surgeries was flown back to the states.
My flight was by way of Japan, Alaska, and ended up in Andrews Air Force Base near Washington, D.C. I finally got to see my family who all drove to D.C. to see me. I spent two days there and was flown to Ft. Dix, N.J. Army Base. I was than taken by bus to Philadelphia Naval Hospital. I spent 9 months there and was sent to Wilkes-Barre V.A. Hospital. I spent 14 months there; and, after many more surgeries and a discharge from the Marine Corps, I was transferred to the Philadelphia V.A. Hospital.
I spent more than a year there; and, after getting tired of being used as a guinea pig for every new doctor that came down the road, I decided not to return to the hospital after a week home for Christmas. By this time, I had spent almost 3 years in the hospital. I did my own rehabilitation on my arm and did anything the doctors told me I wouldn't be able too. I worked at everything from pumping gas to driving trucks and heavy equipment.
I recently took my retirement from working as a Correctional Officer in a maximum security prison. I have raced motorcycles, drag cars, and stock cars. I was certified as an EMT, deep scuba and rescue diver, auto rescue and repelling and pompering. When anybody told me there is no way I could do it, I said watch.
Last year, Oct. 99, I received a phone call from a woman who asked me if I was the Cliff Treese who was stationed in Monterey, Ca. in 1967. When I said yes, she told me she was the daughter of my old girlfriend from California that I went with while I was stationed there and until I was wounded when I lost all my addresses. She asked me to call her and surprise her. She was living in Alabama and worked in the hospital at Ft. Benning, Ga.
I called her and surprised her. In Dec. of 99, I flew down to meet her and bring her back to Pennsylvania with me. We drove back; and in July of 2000, we were married in Gatlinburg, Tenn. We now live in Allentown, Pa. and are very happy.
---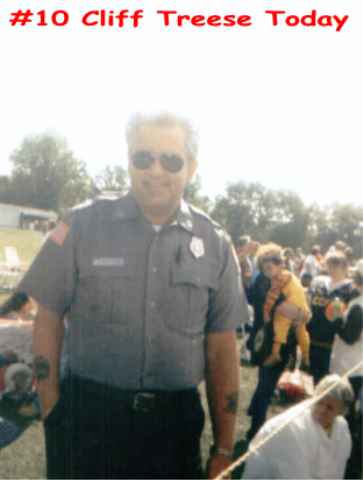 #10--Cliff Treese Today at daughter's football game.
---
Cliff can be contacted at: Khesanhvet68@aol.com
---

Copyright 2001 by Cliff Treese, All Rights Reserved

---