The "VVHP" Marquee:
Time-sensitive Information, Special Events, and Important Links
---
---
This Marquee contains information on forthcoming events, announcements, and sources of interest to Vietnam Veterans, their Families, and Friends.
The first section is for "Dated Events." Special sections for Veteran Holidays, with the headings "Memorial Day Events" (End of May) and "Veterans Day Events" (November 11th), have been created within the dated notices for information and events occurring on or near these Holidays.
Second is a link to the "Returning To Vietnam" section for requests and questions from our Vietnam Veterans, their family members, and friends. If you are planning to or thinking of returning to Vietnam and/or other countries in the area included in the War and need advice and/or someone to go with, please send us as detailed a notice about your journey as you can.**
Third, we have a link to our "Bulletin Board" section for requests and notices of a longer nature.
Fourth, we have a link to Offsite Reunion Resources - other places and contacts for checking on reunions, newsletters, etc.
Next are Links to "THE MOVING WALL" Web Site and its schedules and "THE VIRTUAL WALL" Web Site.
At the end of this Page are Links to information about the "173rd (Sky Soldiers)," the "Observation Squadron SIXTY SEVEN (VO-67)," and "E-mail Support For Our Troops."
We realize information changes quickly on the Internet, and some links may no longer be viable. However, the general information is offered so viewers know what is out there in Cyberspace that they can search for, if need be.
To place a notice in this Marquee, please contact Deanna at: deanna@ont.com
---
For other aids and information, please access the "Veterans Organizations and Support Groups" main Section of our "VVHP" Web Site for a link to our "Lost and Found" Locator where you can register to find other Veterans, buddies you served with, and/or their family members and for a link to our "Information and Search Aids" Index of links, contacts, and sources. In "Lost and Found," you can view other listings already there to see who has checked in with us, too.
**Don't forget to also place a notice about your SEA trip in the "Lost and Found" mentioned above, and see our "Tour Packages" Gallery in "The PX" main Section for information and ideas about tours in country.
The "front door" URL of the "VVHP" Web Site, where our main Sections link off of, can be found by clicking on the "Back" .gif below at the end of this Page.
Some of the following links are off this Page. Please don't forget to bookmark and come back.
Revised 04-03-2010 by DGSH
---
---
DATED EVENTS
---
---
---
MEMORIAL DAY EVENTS
---
Memorial Day was originally known as Decoration Day because it was a time set aside to honor the nation's Civil War dead by decorating their graves. It was instituted in 1868 to commemorate the sacrifices of Civil War soldiers and has since grown to honor all those who have given their lives in service to their country.
---
---
VETERANS DAY EVENTS
---
Originally celebrated as Armistice Day, November 11 is the anniversary of the World War I Armistice between Allied and Central Powers, signed in General Marshal Foch's railway car in the Forest of Compiegne, France. Hostilities ceased at 11 AM.
"This day should be commemorated with thanksgiving and prayer and exercises designed to perpetuate peace through good will and mutual understanding between nations." Those are the words of the Congressional Resolution signed by President Woodrow Wilson on November 11, 1919, the first Armistice Day. The resolution also says this day should be observed in schools and churches and other suitable places, with appropriate ceremonies.
In 1954, a presidential proclamation changed the name to Veterans Day in the United States to honor all Veterans of the Armed Forces. Many places observe a silent memorial at the 11th hour of the 11th day of the 11th month.
---
---
2010 HOMECOMING
Contact Person for questions about this Event:
Larry Russell at larry@esad.net
Web Site for further information on this Event:
http://www.celebratefreedomfoundation.org
---
2010 Vietnam Landclearers Association Reunion
June 10th - June 13th, 2010
To be held in Branson, MO:

At Lodge of the Ozarks
3431 West Hwy 76
Branson, MO 65616

Phone: 417-334-7535
Toll-Free: 877-327-9894
Fax No: 417-334-0306

Contact:

Billy R. Smart - President
Vietnam Landclearers Association
629 E. Knights Road
Sandwich, IL 60548

Phone: (815) 703-8613
Email Address: bsmart1@hotmail.com
Web Site: http://www.vietnamlandclearers.com/
---
USS Hassayampa (AO-145) Reunion
Unit: USS Hassayampa (AO-145)
Location: Oklahoma City, OK
Date: 9-11 September, 2010
E-mail Norman Barron at: Barronnp@aol.com
Phone: (405) 590-3717
1.USS Hassayampa Veterans Association
The USS Hassayampa (AO-145) Veterans Association is an association by, of, and for all former crew members of the USS Hassayampa (AO-145), the best oiler: http://www.usshassayampa.com/
2.USS Hassayampa (AO 145) - Crew List - Reunite with old Navy Buddies The table below contains the names of sailors who served aboard the USS Hassayampa (AO 145). Please keep in mind that this list does only include records of ... http://www.navysite.de/crewlist/commandlist.php?commandid=808
3.USS Hassayampa AO-145. Hassayampa Link One - Two. History .. from American Naval Fighting Ships Port Of Call MAP .. Neosho Class: http://navy.memorieshop.com/Hassayampa/index.html
4.USS Hassayampa (AO-145) USNS Hassayampa (T-AO 145) - "Finest Oiler ... this is a personal archival website proudly depicting U.S. Navy Fleet Oiler USS Hassayampa (AO-145) and U.S. Military Sealift Command Fleet Oiler USNS: http://www.angelwind.com/hassayampa/
5.USS Hassayampa (AO-145) USNS Hassayampa (T-AO 145), USS Hassayampa (AO-145) United States Navy 15 April 1955 - 17 November 1978. Home Port Pearl Harbor, Hawaii. USNS Hassayampa (T-AO 145): http://www.angelwind.com/hassayampa/photo_album.html
6.AO-145 - Fleet Oiler (AO) Photo Index Sep 26, 2008 ... 154k, USS Hassayampa (AO-145) being approached by USS Gunston Hall ... 129k, USS Hassayampa (AO-145) after refueling USS Gunston Hall ... http://www.navsource.org/archives/09/19/19145.htm
7.USS HASSAYAMPA (AO-145) Crew, Photos, Reunion, & Links: http://www.hullnumber.com/AO-145
8.USS Hassayampa AO-145. Hassayampa - A river in Arizona. (AO-145: dp. 11600 (It.); 1. 655'; b. 86'; dr. 35'; s. 20k.; cpl. 324; a. 12 3"; cl. Neosho) ... http://www.historycentral.com/NAVY/oiler/hassayampa.html
---
Requests and Questions Concerning Trips to SEA
---
Requests and Notices of a Longer Nature
---
---
THE MOVING WALL
Two, half-scale replicas of the Vietnam Veterans Memorial in Washington, D.C., travel around the country, spending about six days at each site and sponsored by a local organization.
Schedules of the "Moving Wall" Displays
The Moving Wall schedules on line are updated weekly. For confirmation of dates or changes and new additions, please access:
and click on the hypertext "SCHEDULES OF VISITS" for the most current information.
---
Pictures of the "Moving Wall" Display, provided by V-man and Michele in the "Vietnam Veterans Memorials" Gallery in the "Remembrance" main section of this Site, are Here.
---
---
Information on their Chapters and more!
---
Observation Squadron SIXTY SEVEN (VO-67)

Information About Their Reunions
And Their Search for Members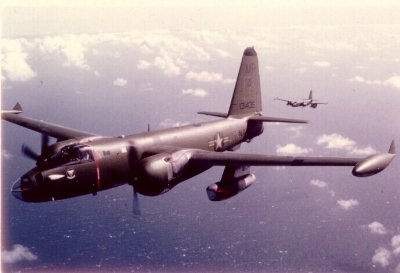 OP-2E
"The OP-2E was the overhauled, old P2V-5F rebuilt for our mission. All of us were the Anti Submarine Warfare crews because we had been flying this thing for years. The Captain was a four striper and known by most of the people."
Alex
---
*** March 2001: JTF/FA is in the process of recovery of the remains of VO-67 Crew Two (nine members) lost in Laos.
Alex
*** UPDATE: The Warriors of Crew Two are home.
"VVHP" EDitor
---
I am trying to locate about 100 members of Observation Squadron SIXTY SEVEN (VO-67). We were a very secret operation flying out of Nakhon Phanom Thailand working the Ho Chi Minh Trail.
I would appreciate any ideas and sources that would aid me in my search. We have our squadron included in the Web Site:
http://www.vpnavy.com/vo67.html
And have our own Web Site at: http://www.vo-67.org/
Please access the following link for the list of people that we are attempting to find: VO-67 Member List.
Alex
A.G. "Alex" Alexander, Jr.
CDR. USN. (Ret)
501 Geddes Ave.
Whitefish, MT. 59937
Phone: (406) 862-5161
E-mail: vo67usn@centurylink.net
For more information, land mail, phone, and/or email using the contact information on our Web Site linked above. All personnel having anything to do with VO-67, Military or Civilian, are welcome to our Reunions.
---
E-mail Support For Our Troops
Since the Department of Defense is discouraging normal or snail mail due to the danger of anthrax, "Stars and Stripes" has set up a program called "Messages of Support" with an E-mail address for messages that are then posted in European and Pacific editions. E-mail your message to:
supportmessages@estripes.com
The messages are printed on Mondays and Wednesdays and are limited to 30 words.
If you don't have E-mail, Stars and Stripes will accept letters addressed to:
The Stars and Stripes

ATTN: Advertising-Messages

529 14th St., Suite 350

Washington, D.C. 20045-1301

Messages are also posted on the "European and Pacific Stars and Stripes" Web Site so those at sea can read them. Visit the Site at:

http://www.stripes.osd.mil/

Deanna's Comments:

I hope there is a continual flow of support -- not just at first. Our troops need to know we support them at all times for whatever they have to do and forever how long. They have answered their country's call and are doing their duty. They need to know we are united behind them just for being there. Any "issues" need to be addressed to other people elsewhere in a reasoned manner, but our country needs to be a united country for Freedom and to preserve our way of life.
---
---
Aussies Able to Send Their Support to
Their Service Men and Women
Australians wanting to send messages of goodwill and support to our service men and women, deployed overseas as part of Australia's contribution to the International Coalition against terrorism, now have the opportunity to do so.
The Department of Defence has set up a 24-hour E-mail and free-call fax service providing members of the public with the facility to send their messages of support to deployed personnel.
The E-mail address is: messagestothetroops@defence.gov.au
The free-call fax number is: 1800 643 938
Messages are to be no longer than one page in length and should be of a general nature, as personal messages to specific members or units are unable to be passed on.
For further information:
Greg Hughes

Director

Defence Community Relations

(02) 6265 2959

Defence Website: http://www.defence.gov.au/terrorism

Department of Defence
Media Release

Issued by Public Affairs and Corporate Communication, Department of Defence, Canberra, ACT, 2600.

Media releases are available by E-mail if you register at the Media centre at: