The Moving Wall: Parks College of St. Louis University
Cahokia, Illinois, June 1-7, 1987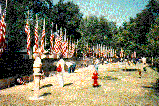 Click on the picture to view it at a larger size
---
Photos and narrative contributed by By Michele Viehman
---
Parks College, located a few miles east of St. Louis, Missouri, hosted the Moving Wall in June 1987. Among the activities scheduled was a ceremony conducted by the Women's Vietnam Memorial Project group, who also had on display a replica of the proposed statue to commemorate women's service in Vietnam: the figure of a single nurse looking downward, with her upturned steel pot in her hands.
Also held were an interfaith memorial service, a POW-MIA ceremony, and a fly-over of F-4 fighter planes from the Missouri Air National Guard.
A special memorial ceremony was held for alumni of Parks College, which was founded in 1927 as the first federally-certified college of aviation in the nation.
---
Here are some additional pictures of the Moving Wall at Parks College:
---