The Moving Wall: St. Peters, Missouri, July 9-15, 1988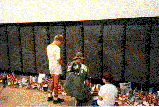 Click on the picture to view a larger image
---
Photos and narrative contributed by By Michele Viehman
---
The first appearance of the Moving Wall in the state of Missouri was sponsored in 1988 by the burgeoning city of St. Peters, approximately 20 miles due west of St. Louis. The replica served as the primary attraction in a week-long slate of "Welcome Home" festivities coordinated by the ladies' auxiliaries of area VFWs, AMVETS, American Legion posts, and the Vietnam Veterans for Homecoming II (a group of local vets and others concerned with promoting awareness of prisoners of war and soldiers missing in action).
Activities included an opening-day parade, daily presentations by a variety of speakers, information booths, and entertainment. Launching the celebration was the three-day Vietnam veterans reunion held in nearby Old Towne Park: estimated attendance for the weekend gathering exceeded 5,000 Vietnam veterans and their families from throughout the Midwest.
In addition to the estimated 20,000 persons-per-day who visited the site intentionally, an undetermined number of persons travelling Interstate 70 spotted the Moving Wall as it was displayed on a bluff overlooking the highway and took advantage of the unanticipated opportunity to pay their respects.
---
Here are some additional pictures of the Moving Wall at St. Peters, Missouri: