Where We Were In Vietnam
By Michael "M-60" Kelley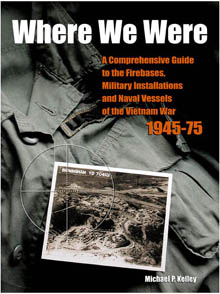 This book is THE Comprehensive, Definitive Guide to the Firebases, Military Installations and Naval Vessels of the Vietnam War - 1945-1975
The culmination of over seven years of research, it is the ultimate guide to the military geography of the American War in Vietnam and includes references to numerous battle sites and forts of the French War.
Its over 10,000 entries cover the entire Indochina theater, including Cambodia, Laos, Thailand, and both North Vietnam and South Vietnam.
Each entry attempts to provide as much of the following as could be identified: name, grid coordinate, relative location, a.k.a. names, origin of name, dates built and dismantled, who constructed the base, major units occupying the base, dates of major attacks, unique features, alternate grids, province and military region.
Identified within the text are some 6,000 named firebases and LZs, over 2,000 airfields, and the names of over 700 US and ANZAC warships and contract vessels that served within the Vietnam Combat Zone.
Cover Price: $39.95 (call 1-800-228-2275)
May, 2002 release - ($29.95 if pre-ordered through 800-number)
Author contact at www.wherewewere.com
---
---
---
---
---
Why Didn't You Get Me Out?

By Frank Anton

Frank Anton was a POW in Vietnam for FIVE years, three of which were in the jungles in South Vietnam. For more information about Anton's book, please contact me by email at jallen@summitbooks.com

Thank you,
Jennifer Allen
---
---
---
---
---
---
---