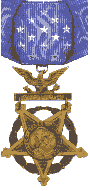 May he rest in peace
---
Fred Zabitowski, CMH, USA-SF passed away last night at 6:05pm est.
Fred's funeral will be held in Pembroke NC, Friday 12 Jan 1996 at 1400HRS Lumbee Memorial park, Valor Section, Full Military Honors.
His wife Terri requests that if anyone wants to make memorial contributions that they can send them to the Zabitowski Family at PO Box 660, Fayetteville, NC 28372.
---
The above information was provided on 11 January 1996 by CWO3 Jim Ferrier USMC and Robert Jack SFstoney@earth.execpc.com

Back to Main Page
---