AUDIO TAPES AND CDs
---

Last revised 12/28/06 - JPR

---
Some ads have links to other Web Sites. Please bookmark your place, and come back.
---
WONDERFUL, OLD, NOSTALGIC
MILITARY FILMS
on CD and VHS
Everyone loves the gift of a nostalgic video from their military career! We have Boot Camp, Squadron, Navy ship, WWII Weapon, Vietnam, Korea, Aviation, Marine Corps, Army, Navy, Air Force and many other rare videos!
VISIT USMILITARYVIDEO.COM
---
In the Shadow of the Blade

"In The Shadow of The Blade" (100 mins) follows the journey across America of restored Huey helicopter "091" to capture the untold stories of Vietnam War veterans and families. Described as "the most important thing to happen for Vietnam veterans since the dedication of The Wall," In The Shadow of The Blade won Best of Show and Gold Documentary in the WorldFest Independent Film Festival and a Vietnam Veterans of America Presidents Award for Outstanding Documentary Film. The DVD includes 100 minutes of extra stories and behind-the-scenes material. The original music soundtrack is also available.
---
Portrait: The Very Best of John Schumann

A very popular CD among the Australian Veteran community
with at least two very popular Australian songs about the Vietnam Experience:
*I Was Only 19*
*Safe Behind The Wire*
Produced by Sony Music
---
So Long Song
Vietnam Veteran Bill Nolte has provided his So Long Song for listening at the Virtual Wall web site.
The "So Long Song" CD is available for purchase directly from Bill Nolte at w.nolte21-68@hotmail.com .
"I welcome any e-mail."
Bill Nolte is a former Marine SGT. E-5 stationed with the 3rd AmTrac Bn. 1st Marine Div.FMF
based at Marble Mountain just south of DaNang Vietnam from 12/31/67 to 9/9/69.
He was awarded the Purple Heart for wounds received on May 21, 1968.
Semper Fi .
---
---
.
---
---
---
Leaving The Nest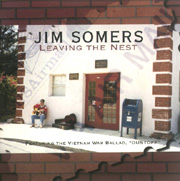 LEAVING THE NEST is dedicated to this country's sons and daughters who served in the military during the Viet Nam War. It was a "Cold Shot" that you took for all of us. Only you know.
This CD features two Viet Nam songs that seem to capture the emotions of the Viet Nam experience for many of the listeners. They were perform at Melbourne, Florida on April 7-9th, 2000. Included in this CD is a variety of songs I have written and recorded.
CDs - $14.00 each; plus $2.00 S&H each item.
Make Check or Money Order Payable to Jim Somers

Send to: Jim Somers
7406 2nd Ave. NW
Bradenton, FL 34209
---
---
---
---
---
MISSING IN ACTION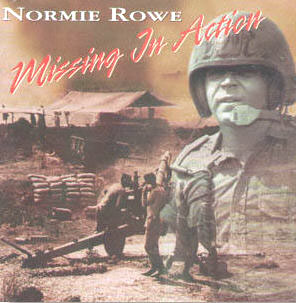 "Missing in Action" is definitely an Australian favorite. It contains songs Normie wrote
following his return to Australia from his tour in Vietnam in the late 1960s.
'Missing in Action' can be ordered using email or via the website.
The price is US$15 (including shipping & handling.)
---
---
---
---
---
Soldiers Songs

By Michael McCann
"A former paratrooper and Green Beret wounded in Vietnam, Mike McCann's rendition of these powerful battlefield ballads comes straight from the heart."
The CD has a ten-page insert, which gives the histories of each song. To hear a brief .Wav file sample and learn more about each song, view:
Web Site: http://www.soldierssongs.com/

E-mail Michael at: michael.mccann@snet.net
---
---
---
---
---
Sarge Lintecum's "Vietnam Blues"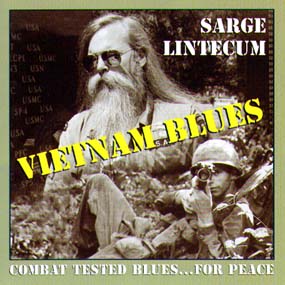 Sarge is available for your Veterans' Reunion or Event! Sarge Lintecum is a three-tour, Vietnam combat veteran (101st Abn. Div.) who has made one of the most highly decorated and successful Vietnam-related recordings ever produced. This recording has received five Honorable Mention Certificates in the Billboard Magazine Song Contest. One of the three, spoken-word poems has won second place in a national poetry contest.
"Vietnam Blues - Combat Tested Blues For Peace" is advertized in Vietnam Magazine in the U.S. and around the world. It has been played on the Vietnam Veterans Radio Network broadcast around the world on short wave.
Sarge performed at the National Convention of the Vietnam Veterans of America in Kansas City, Kansas, in 1997 and in 1999 in California. Sarge also performs at major venues like the Grand Emporium Blues Bar in Kansas City, Missouri -- twice voted best blues club in America.
Sarge also performs at colleges and universities across the nation like LaGrange College in Georgia, Arizona State University, and Lake Superior College in Minnesota among others. Sarge says, "In this great country, everyone can find a nitch. I've found mine after fifteen years of being a hermit after Nam."
For more info online, access Sarge's Jungle at http://vietnamblues.com/
And http://www.geocities.com/mrmrssarge/index.html Now with PayPal!
You can E-mail Sarge at: sarge@vietnamblues.com


CDs - $15.00; Tapes - $10.00; plus $2.00 S&H each item
Make Check or MO Payable to Sarge Lintecum

Send to: Mr. & Mrs. Sarge Enterprises
PO Box 25421
Tempe, AZ 85285
---
---
---
---
---
The Ultimate "WELCOME HOME" Album!

A recent release, by producer T. P. "Tom" Willis, is titled "Welcome Home 96." Singer Chuck Price and the best of the Nashville pickers provide this exquisite collection of original songs to honor the Veteran of the Vietnam War.
Willis, of Gunnison, Colorado, is providing both tape and CD versions on a mail-order basis prior to production-level release.
Cassettes are available for $10.00 Total.
($8.00 per Cassette, plus $2.00 S&H)

CDs are available for $17.00 Total.
($15.00 per CD, plus $2.00 S&H)

All orders can be placed by contacting T. P. Willis for further information.
[Editor's Note: Generally, the VVHP attempts to present all items in a non-partial manner; so, I won't tell you that I personally believe this is some of the best music I've heard and definitely the best "Welcome Home" tribute ever produced. Nor will I indicate that I'd like to give my own personal guarantee that at least ONE of the songs on this release will become your own personal favorite. - John Rossie]
---
---
---
---
---
"Names on The Wall"
A computer program for searching The Wall. Produced and sold by Chuck Mangi as a fund raising project of

VVA Chapter 49 (NY)
---
---
---
---
---
"Beyond the Wall"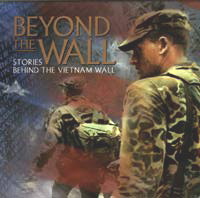 This CD-ROM tells the story behind, and inside of, The Wall - the Vietnam Memorial.
"Beyond the Wall recreates the experience of visiting The Wall
and provides background on the Vietnam War,
the people involved,
and the community who have preserved memories
throughout the war's 20-year aftermath."

Produced by Magnet Interactive Studios, Inc.

Visit their Home Page
or
contact Maribeth Nowakowski via e-mail
---
---
---
---
---
and other commercially available recordings of songs by Americans in the Vietnam War.
---
---
---
---
"VVHP" CD Version
Special Edition
A Netscape or Microsoft Explorer viewable CD version of the Vietnam Veterans Web Page, inlcuding most of the stories, photos, poems, etc. can be made available to schools and other organizations. This version does not include the various linked pages which are served from other physical locations. Contact Bill McBride for further details
---