Where We Were In Vietnam
By Michael "M-60" Kelley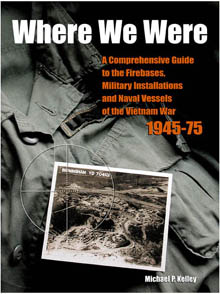 This book is THE Comprehensive, Definitive Guide to the Firebases, Military Installations and Naval Vessels of the Vietnam War - 1945-1975
The culmination of over seven years of research, it is the ultimate guide to the military geography of the American War in Vietnam and includes references to numerous battle sites and forts of the French War.
Its over 10,000 entries cover the entire Indochina theater, including Cambodia, Laos, Thailand, and both North Vietnam and South Vietnam.
Each entry attempts to provide as much of the following as could be identified: name, grid coordinate, relative location, a.k.a. names, origin of name, dates built and dismantled, who constructed the base, major units occupying the base, dates of major attacks, unique features, alternate grids, province and military region.
Identified within the text are some 6,000 named firebases and LZs, over 2,000 airfields, and the names of over 700 US and ANZAC warships and contract vessels that served within the Vietnam Combat Zone.
Cover Price: $39.95 (call 1-800-228-2275)
May, 2002 release - ($29.95 if pre-ordered through 800-number)
Author contact at www.wherewewere.com
---
---
---
---
---
Why Didn't You Get Me Out?

By Frank Anton

Frank Anton was a POW in Vietnam for FIVE years, three of which were in the jungles in South Vietnam. For more information about Anton's book, please contact me by email at jallen@summitbooks.com

Thank you,
Jennifer Allen
---
---
---
---
---
The World, War, Freedom And More
By Del "Abe" Jones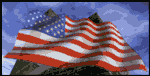 A compilation of poetry put together during Desert Storm dedicated to Gulf War, Vietnam War, and all other Veterans. Includes several about Patriotic and Environmental issues as well as a couple about Native Americans. Available as e-book ($4.00) as well as paperback ($9.95 includes s&h) 50% of all profits from books sold from this site will be donated to The Military Order of the Purple Heart Association Service Foundation.
Del "Abe" Jones served in the United States Air Force, 1958-1961, 92nd Combat Defense Squadron, K-9 Corps, Fairchild Air Force Base, Washington. Although he did not serve during the war in Vietnam, he strongly identifies with those who did.
Jones has published three poetry books. He donated the profits from The World, War, Freedom, and More to the families of Tennessee National Guardsmen during Desert Storm. Visit his webpage for more of his poetry. A second printing of his second book, Moontides And Other Changes, is scheduled for release in the near future as well as being available in e-book format. In addition to having his work featured in newspapers, on radio, and tv Jones' poetry, POW/MIA and And, They Were There, Too, is carved in the Ellis County Veteran's Memorial in Waxahachie, Texas. See info and pictures of this wonderful monument HERE Jones also recited The Wall at the Vietnam Veterans Monument dedication in Orlando.
Today, Jones is a father of four and grandfather to eight who reside in Spokane, Washington. He continues to write poetry and tries to be successful as a song lyricist in White Bluff, (Nashville area) Tennessee.
Contact the author for ordering information.
---
---
---
---
---
Xin Loi, Vietnam
By Al Sever

Written from the viewpoint of a helicopter crewmember who served in 11 out of the 16 campaigns of the Vietnam War during his 31-month tour, Sever's historical document tells how his experiences melded together to produce some lessons on living and dying. Sever was in-country from the heavy combat days of 1968 to the days of moral and physical disintegration of our forces in 1972, serving from the Delta to the DMZ.
This is the book that Col. David Hackworth calls, "A must read by today's soldiers."
ISBN: 0-971429-62-6
---
---
---
---
---
Zero Dark Thirty
by Samuel Brantley

Unlike other branches of the military, the Marine Corps required some of its combat aviators in Vietnam to spend time doing forward air control duty on the ground, with the frontline troops. For Captain Sam Brantley, it was a harsh and horrific lesson in the realities of jungle warfare. The battle had always seemed somewhat distant to him, flying well-armed A4s hundreds of feet above the trees and paddies. But during the spring of the Tet Offensive, Brantley's war changed. What he would see and do in those seven months on the ground would change his life forever.
In the tradition of Michael Herr's award-winning Dispatches, Samuel Brantley breaks new ground in this edgy, irreverent memoir of a young man's evolution from a wide-eyed Marine aviation cadet dedicated to flying and serving his country, to a battle-weary veteran struggling to re-enter civilian life in post-Vietnam America. Along the way, Brantley treats his readers to a parallax view of war and the military-from the air, the ground, and the inside-out.
Price $15.95, 270 pages
ISBN: 1-55571-624-5
From Hellgate Press
---
---
---
---
---
---
---