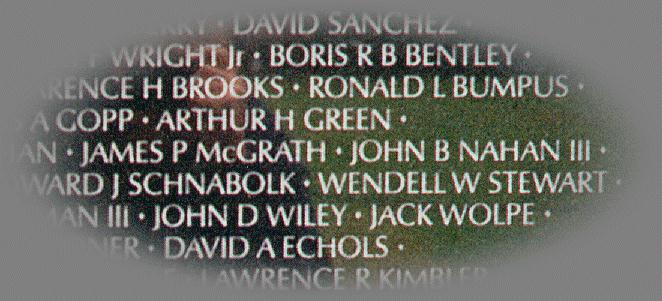 This Gallery is dedicated to the memory of
Lance Corporal John B. Nahan III, USMC
Lance Corporal Jack Wolpe, USMC
Corporal Thomas A. Gopp, USMC
HM3 James P. McGrath, USN
They were Killed in Action during a reconnaissance mission in support of Operation Cloud in the A Shau Valley, Thua Thien Province, Vietnam, on 3 August, 1967.
Their bodies were not recovered.
---
"The A Shau"
---
The materials in this Gallery are devoted to operations which took place in the A Shau Valley. This valley was "key terrain" for the North Vietnamese, and one of the North's major supply lines into the South for much of the war. The A Shau was the setting for some of the war's bloodiest operations.
---
---
Dave Demsey traveled to the A Shau Valley in 1992 to honor his brother's memory. This Gallery includes pictures and maps provided by Dave.
---
A Recollection of Infantry Operations in the A Shau by Warren "murray the k" Murray.
A Combat Engineer recalls one day in the A Shau.
Mike McCombs recounts a Special Forces operation into the "Ah Shit" Valley.
Coming Soon: Bill McBride describes two reconnaissance patrols into the A Shau Valley
---
Dennis Reilly's A Shau pictures will be linked into this Gallery. They are currently being cataloged.
A black and white sketch map of the Northern and Central A Shau Valley. This is a jpeg file which is 385,622 Bytes in size.