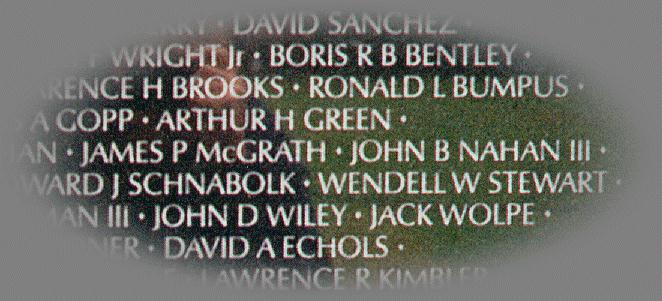 The Return of Reconnaissance Patrol Partyline One
2nd Platoon, Alpha Company, 3rd Reconnaissance Battalion, USMC
Operating in the A Shau Valley, Republic Of Vietnam
1 August 1967 - 18 August 2001
This Page is dedicated to the memory of

Corporal Thomas A. Gopp, USMC (HMM-164)
HM3 James P. McGrath, USN
Lance Corporal John B. Nahan III, USMC
Lance Corporal Jack Wolpe, USMC


Updated: 5 November 2001

Reconnaissance Patrol Partyline One was attacked by NVA forces during the emergency extraction of the patrol from the Southern A Shau Valley on 3 August, 1967. Three patrol members and a crewman from the CH-46 attempting the extract were killed when a rocket propelled grenade exploded inside the helicopter as it was hovering in the zone. The surviving patrol members and air crew were subsequently extracted by the back up helicopter. The enemy situation in and around the landing zone prevented recovery of their bodies.

The Joint Task Force, Full Accounting (JTFFA) conducted several recovery operations in and around the crash site during the 1990 timeframe. Remains were eventually recovered by excavation of the site and sent to the Army Forensic Laboratory in Hawaii. Family members were notified this year that the remains would be returned for burial with full military honors.

Detailed information on the schedule and location of the memorial services and interments will be posted below as it is received. If you have additional information, pictures, articles, etc. please notify me at bill@vietvet.org and I will post it here.
---
Pictures from the Memorial Service on 18 August . These pictures will be annotated and arranged better later on
Information on the Memorial Service for John Nahan that was held on 18 August, 2001 in Allegan Michigan (Updated: 25 August)
---
---
Tactical Maps, Photos, and Casualty Recovery Operational Reports for reconnaissance patrol "Party Line One."
---
PartyLine One
L/Cpl. Dan Heckathorn — L/Cpl. Cleon Kitchens — L/Cpl. Bobby Lathum —2/Lt. Bill McBride— HM3. James McGrath— Cpl. McCarty— L/Cpl. John Nahan— L/Cpl. Jack Wolpe
---
"Finally Home"

Finally home........where you belong,
back from the land of the VietCong.

I've suppressed my sentiments over the years,
the anger, the dreams, the sadness, the tears,

a recent call that proclaimed your return,
has started a vat of emotions to churn,

Our time together, I recall too often,
you must know you'll never be forgotten,

concluding....at last.....you're finally home.


by Lynn Ortman, 3rd. Reconnaissance Battalion
---