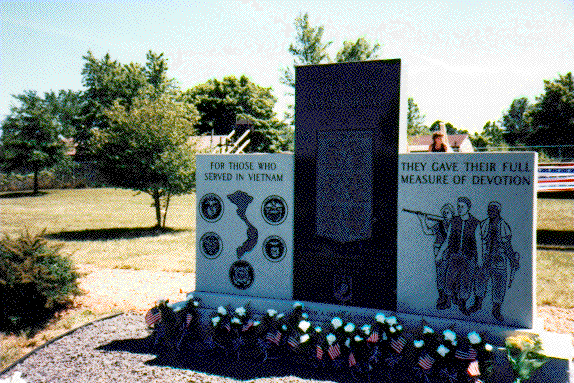 Franklin County Vietnam Memorial; St.Clair, Missouri


Photo and Narrative contributed by Michele Viehman
---
Franklin County Vietnam Memorial, St. Clair, Missouri
St. Clair, Mo., (1994 population: 3,917), located about 50 miles southwest of St. Louis, is the site of the Franklin County (Mo.) Vietnam Memorial, which was unveiled on May 23, 1987. Dedication day was launched by a lengthy Vietnam veterans' parade through the town to the Memorial site, made all the more rewarding by the enthusiastic presence of the local citizenry, who lined the streets along the route, cheering and waving flags--small town America at its finest.
The idea for the Franklin County Memorial came from Charles Wichmann, who did not himself serve in Vietnam. He and the other members of Elks Lodge No. 2651 joined with American Legion No. 347, VFW No. 24826, and the groups' auxiliaries to form a planning committee for the Memorial.
Citizens, civic groups, schools, city officials, service groups, and veterans' organizations donated money, time, or both to the effort; and in short order $2800 was raised, more than half the cost of the granite structure, which was built at cost (with no charge for labor) by Greg Russell, owner of the St. Clair Monument Company.
The Franklin County Vietnam Memorial is a granite structure composed of three segments resting on a 10-foot base. The center panel, made of Cherry Hill black granite, stands eight feet tall, and is flanked by two six-foot-high fabricated gray granite wings. The left slab, headed by the inscription "For those who served in Vietnam," bears a map of Vietnam surrounded by the emblems of the Marine Corps, Army, Coast Guard, Air Force, and Navy. The panel at right is etched with a reproduction of the statue of the Three Servicemen located near the Vietnam Veterans Memorial in Washington, D.C., beneath the legend "They gave their full measure of devotion."
The main (center) portion of the monument is inscribed at the top: "Franklin County Vietnam Memorial, Dedicated May 23, 1987." Beneath that is an engraved banner bearing the roster of names of the 24 Franklin County servicemen who were killed in action in Southeast Asia. Under the list of names is the inscription:
At the veils of twilight
And dawn's early light
We'll hear their voice
And not break faith.
From a grateful country.
The POW/MIA symbol completes the center panel.
St. Clair, Missouri, is located approximately 50 miles southwest of St. Louis, on Interstate Highway 44. Take the second St. Clair exit (Highway 30). The Franklin County Vietnam Memorial is in front of the American Legion Hall, near the intersection of 30 and Commercial.
---

Back
---