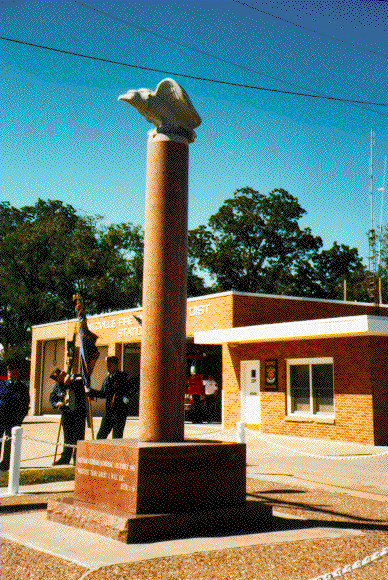 Vietnam Veterans Memorial; Wentzville, Missouri
Photos and narrative contributed by Michele Viehman

---

Vietnam Veterans Memorial; Wentzville, Missouri
Tiny Wentzville, Missouri, (1994 population: 5,088), takes extreme pride in being home to one of the first Vietnam Veterans memorials in the United States. Originally dedicated December 19, 1967, the site was initially established as a tree of lights by local residents to raise funds to send Christmas gifts to local servicemen stationed in Vietnam. Enough money was raised from the citizenry to send the CARE packages and also place a small monument next to the tree.
By December of 1968, a thirty-foot tree had been donated to replace the original tree, and two local artists had provided a sculpture to sit alongside it. Over time, however, the tree died; and the Memorial was subjected to repeated vandalism. Citizens convened yet again to plan a more permanent structure, which was dedicated in 1984.
As it stands today, the Wentzville Vietnam Veterans Memorial consists of a single column of red Missouri granite, topped by the carved figure of an eagle. Inscribed on the column's base is:
Vietnam Veterans Memorial December 1967
"Whither thou goest I will go."
Ruth. 1:16
The Memorial with U.S. And MIA/POW Flags
To commemorate the twenty-fifth anniversary of the Memorial, a three-day celebration, designated "Operation Silver Star," was held October 1-3, 1993. Activities included displays and demonstrations by local military units, musical performances, a parade, and the ceremony officially rededicating the Memorial. Wentzville entertained visitors from a number of states and even played host to an Australian Vietnam vet who travelled that remarkable distance for the celebration.
Wentzville is located approximately 40 miles west of St. Louis, Missouri, directly off Interstate Highway 70. The Memorial itself is located on Pearce Boulevard, adjacent to the firehouse. The city's population may have nearly doubled since 1967, but Wentzville still isn't big enough to get lost in!
Click here to view a large image of the POW/MIA flags on the Memorial.
---

Back
---