http://ansel.his.duq.edu/~woytek/cbmu301/ "

Dennis Woytek
(CBMU301 69-70)
---
---
"I volunteered to burn the shitters. I have plenty of experience, and I only caused one fire. Just the canvas blinds."
Mike Howard served as a proud member of the U.S. Naval Mobile Construction Battalion or "Seabee" in Vietnam. Read his story "Generator Watch."
You can E-mail Mike at: Michael F. Howard
---
"I was in the SEABEES (MCB 62), years '66-'67-'68, and would very much like to know how to find information on the Navy SEABEES and also get in contact with any fellow SEABEES. Is there a way to obtain the medals that we did not get and maybe any albums or memorabilia, etc.?"
Thank you,
BOBBY DEHART
---
E-mail: Guerry Stewart
MCB 3 Alpha Company for 2 tours in I Corps, 1st Chu Lai then Hue/Phu Bai 1966 - 1968.
---
My Father, Frank J. O'Brien, was with the 96th C.B. in the Philippines and was killed in action in early 1945. I would love nothing more than to see if any of his old mates are still around and how I might find them. Any bit of information would be helpful. I still have his dog tags with ID Number.
Thank you in advance,
Frank J. O'Brien
---
OHL OLSON
NMCB-8 the "8" ball 63-66 "A" Co. Viet Nam Vet 64-66.
Strawberry Valley, Rhode Island
Special Warfare School
Guerilla Warfare School
Kingsville, Texas
Davisville, RI
Rota, Spain
Steel Pike 1
Camp Le juine
Marble Mtn, Viet Nam
Happy Valley
Red Beach
Hill 327
E-mail: OO4x4@aol.com
---
My name is Harold Sherrill from Hiddenite, NC. I served with Navy Seabees in MCB 62 from 1966 thru 1968 as a construction equipment mechanic. I really enjoy finding others who served with good ole MCB 62. I have lost contact with all but one guy in NJ, also a mechanic. Also, I got to check out the south pole for a few months when I did not reinlist! Was at McMurdo station Antarctica from late December 1968 until late March 1969. I met all branches of service there. Hope to run across a few.
---
CBMU 302, NAVCAT 9, RVN 70-71
Also, I am a charter member of the first VVA Chapter in Alaska -- No. 891! We are located in the Mat-Su Valley about 50 miles north of Anchorage. Our Website has more information about us:
http://www.vva891.org/
---
Looking for pictures and items of memory to be added to my CBMU 301 collection at:
http://www.geocities.com/cbmu301/
I am looking for any history statement for CBMU 301 after 1969 ... when did it leave Dong Ha, Quang Tri, list of all Commanding Officers ... decommissioned?
Also our CBMU 301 Yahoo Group is at:
http://groups.yahoo.com/group/cbmu301
Thanks,
Art Moore
---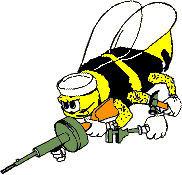 It took my wife moons to create this image, and I am most proud of it.
Jim Higgins (aka Bagger)
---
To be included in this Page, please email: Deanna Shlee Hopkins.
---

EDitor's Note: Please "search" the VVHP's "Marquee" Page for possible Seabee Reunions posted there.

---
Page Created 11-11-2000 by DGSH
Page Last Revised 09-10-2002 by DGSH