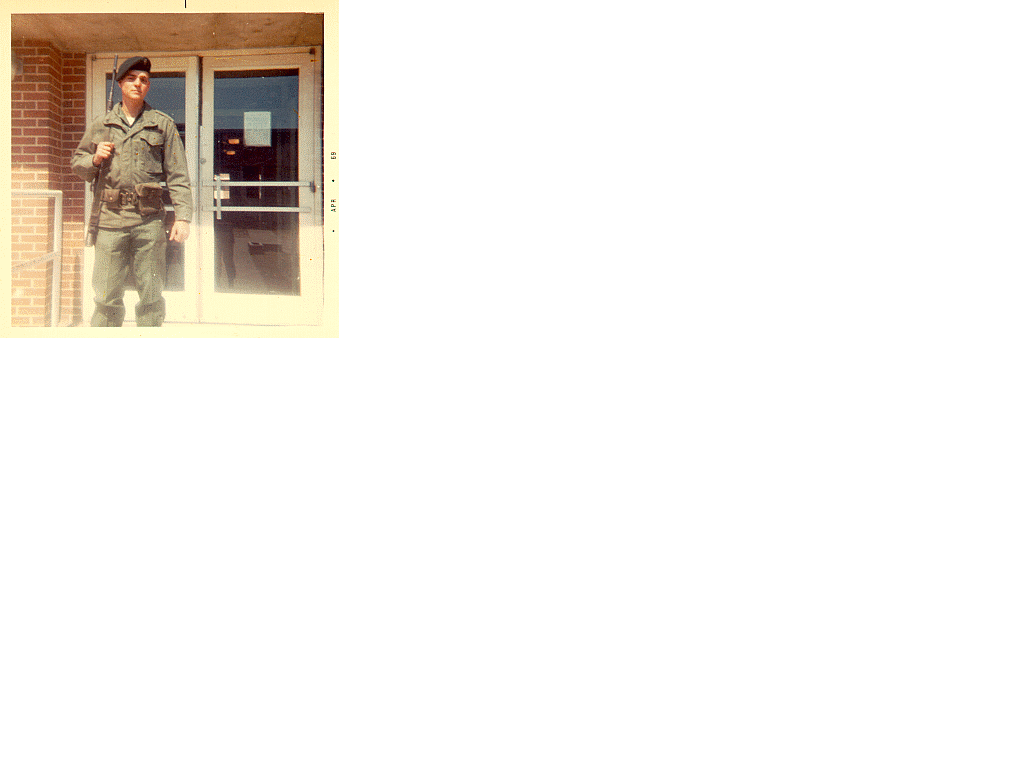 Sonny Hoffman (1969)
Sonny Reflections
---
An Introduction to Sonny's essays and stories.
---
The Vietnam Essays
Welcoming The U.S.S. Lexington A Vietnam grunt's view of a WWII floating battlefield.
Crushed By The Wall A first visit to The Wall in 1992.
Class of '68 By a member of "The Class of '68."
The Metamorphosis of a California Douche Bag Army boot camp, 1968, Ft. Ord, CA.
Camp Crocket? Never heard of it. A place worse than Nam--Airborne Infantry Advanved Infantry Training.
A Devil in Baggy Pants How one young man becomes a U.S. Paratrooper.
I Took Grandma to Nam. A must read for any soldier with loved ones.
The Toughening. Have a hanky handy. Puppy lovers should not read this.
Mountain People The Montagnard tribes people of Vietnam--the Yards
Taking Care of Business The unauthorized supply system, housekeeping, and details of living not covered in the manual.
Combat 101 The lessons of Vietnam style combat
Day of The REMF . Another real "keeper" by Sonny. It shows a side of soldiering that most Americans never knew. Sometimes, we wore white hats.
Colonel Healy's Lonely Hearts Club Band The story of the 5th Special Forces rock/country band that toured Vietnam in 1970. Strange but true.
The Loudest Noise A Tribute to the unsung heros of MACV SOG Recon. Super Top Secret SOG Recon was the toughest job in Vietnam, though it was not done in Vietnam.
Behind The Wall Profiles of three men whose names are on the Vietnam Veteran's Memorial Wall in DC.
Vietnam in Perspective Putting the Vietnam War in perspective; at least, for one Vietnam Veteran.
---
Contemporary Vietnam Related Writing
Fishing in Vietnam A fishing trip, Vietnam-style.
Grunt's Dream Read this if nothing else.
What Are Friends For? Sonny's last night in Vietnam was a night to remember.
Charlie Was a Sharpshooter The VC score a "bullseye" (Humor).
On the Border with Jesus A group of Vietnam vets get to know Jesus, and keep him well-hidden.
Know Your Enemy A prose poem
Ugly is Only Skin Deep Ode to a dead grunt.
Recovering From the VA A disabled vet's most powerful adversary
Officers and Gentlemen Humor
The War Story The fine art of war story BS
Mess with Their Minds Psy Ops, or Dirty Tricks
---
This is a temporary album of some of Sonny Hoffman's pictures. This album will grow considerably as more of his many pictures are scanned and added.
---

Back
---