In his heart, over the years, Vo has carried a passionate gratitude to the United States. This passion has inspired countless verses, especially one dedicated to the wartime experience with American soldiers. He titled it "Dear Daddy" to honor the American pilot who befriended him and was later killed and to all the others who came to help the Vietnamese people. Vo says, "Every Vietnam vet is my daddy. They went there to save a child like myself, and I am the child they saved."
"....If we cannot shed a tear of Love and Gratitude for America's 58,000 dead children, for others in the Vietnam War, then I should pack and go back to where I came from."
To preview some of Vo's poetry in the VVHP's "Remembrance" section, please access:
"TO AMERICA, LOVE AND GRATITUDE."
Hit your browser's "Back" feature to return here.
---
Vietnam Veterans of America, Inc.
Long Beach Chapter #756

Proudly Presents
"Dear Daddy"
A book of poetry by Linh D. Vo
(The Boy in the Poem)
Dedicated to America and our beloved Vietnam Veterans
Your $25.00 purchase price per book will help make the
Long Beach Vietnam Memorial a reality.
(Include $3.75 for postage, handling, and insurance)
Total Cost: $28.75
PLEASE MAKE OUT CHECKS OR MONEY ORDERS TO AND MAIL TO:
Vietnam Veterans of America, Inc.
Long Beach Chapter #756
4132 Ransom Street
Long Beach, CA 90804
(Please note on your check: For "Dear Daddy," VVHP Bookshelf)
ISBN: 0-9654498-0-7
---
---
---
---
---
Dear Donna, It's Only 45 Hours from Bien Hoa
By Doug Neralich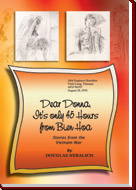 This book is available in electronic format for immediate download from 1st Books Library as well as in paper format from bookstores.
What is it about the Vietnam War that haunts America and the veterans of that conflict decades after the fighting was declared officially over? Was the experience of Vietnam veterans different from veterans of other wars? Former Army medic with the 36th Engineer Battalion (Vinh Long, 70-71) Doug Neralich poses these controversial questions and attempts to bare the answers while revealing untold Vietnam War stories.
Drawing on an impressive array of sources and actual combat and rescue experiences, Neralich weaves a collection of short stories based on high points and low moments in his personal Vietnam War experience. Neralich was only 22 years old when he was sent to Vietnam for a year-long tour of duty. Neralich was part of the perilous mission that built roads and bridges through the hostile swamps of the Mekong River Delta. It was there where Neralich and other young men serving with him faced the toughest battles of their lives.
Dear Donna,It's Only 45 Hours from Bien Hoa covers everything from tragic incidents, bloody encounters, personal conflicts, heartwarming tales, to memoirs. However, underneath the grisly details and harrowing accounts of war are awe-inspiring layers of anecdotes and personal revelations from unsung heroes like sergeants Covelli and Costal.
The book is a "must read" for anyone interested in a story of love, war, and the resiliency of the human spirit. Douglas Neralich is a decorated war veteran and respected teacher. He collects Vietnam War related books, movies and songs. The Vietnam War is not an all-consuming passion, but "Once a Vietnam Vet, always a Vietnam Vet," Neralich proudly declares.
Neralich and his wife Donna currently reside in Wyckoff, New Jersey.
EMAIL CONTACT with Doug Neralich
---
---
---
---
---
Desertion In the Time of Vietnam
By Jack Todd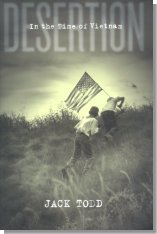 In 1969, Jack Todd was twenty-three and happy beyond his dreams. He had left behind a hardscrabble youth in a small Nebraska town, had an exciting and enviable job as a reporter on the Miami Herald, and was wildly in love with his beautiful Cuban-American girlfriend. As the war in Vietnam drew closer, he assumed that he would fight, as the men in his family had always fought, though he was increasingly troubled by America's role there. His oldest friend had just returned from Vietnam and was already showing signs of the war-caused trauma that would destroy him; he had seen and done things too terrible to describe. He begged Jack to dodge the draft, to go to Canada. Nevertheless Jack entered the army and completed basic training when, on Christmas leave, he made an agonizing decision. By now deeply opposed to the war, he crossed the border into Canada, leaving behind his family, the girl he loved -- and his beloved homeland.
Now one of Canada's most successful journalists, Jack Todd is a remarkable writer of great power and vibrancy. It has taken him thirty years to come to terms with the guilt and shame of desertion, to break the silence, to tell this controversial, important, profoundly American story. In a dark century, when many "only obeyed orders," he chose not to. This is an intensely moving personal story told with passion and literary verve, as well as an eloquent account of a tortured time in American history. It is hard to put down, and impossible to forget.
Published by Houghton Mifflin
April 2001
$25.00US
0-6180-9155-6
---
---
---
---
---
A Dozen Things I Learned About Life
As a Marine Sniper in Vietnam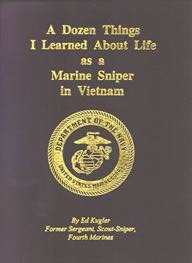 By Ed Kugler
Former Sergeant, Scout-Sniper, Fourth Marines
A wonderful book of short stories along with the Lessons they taught. A great inspiration for dealing with Life's problems and concerns.
Cost: $4.25 Total each -- ($3.00 per copy, plus $1.25 S&H)
Available from:
The Dozen Group
PO Box 11470
Spring, TX 77379
10% of all profits are donated to Homeless Veteran Projects
Contact the Author at Tkugler459@aol.com
---
---
---
---
---
Farewell, Darkness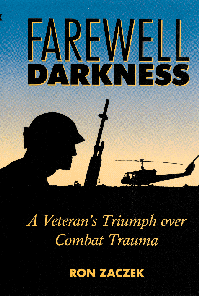 A Veteran's Triumph Over Combat Trauma
By Ron Zaczek
Crewchief, Marine Observation Squadron 3,
Phu Bai, Dong Ha, Khe Sanh
1966-1968
"I had a friend--Ron Phelps. He was the best, and he died."
I face the vets facing me, trying to reach them to know that twenty years and more past his death, the word is no longer hard. I have found the tears to soften it.
Farewell, Darkness is used to promote healing in the nation's 200+ Veterans Outreach Centers and is a probing, personal look at war's psychological toll. The reader lives Zaczek's brutal, honest journey through war as well as his successful treatment for Post-Traumatic Stress Disorder (PTSD). For many, the Vietnam story ends in unresolved pain. Intensely and eloquently written, this ground-breaking book is the first to bring closure and victory to the combat veteran's personal struggle.
"I miss him differently, now. Do you know which feeling is gone? Emptiness. Anything that touched the emptiness is gone as well. I've brought the memories forward. They define a piece of who I am, not all of what I was. When I think of him and all the men I knew, I feel full; and I feel proud of them...and me."
"Zaczek examines the depths of his psyche...in a style that is blunt, articulate, intelligent, and, at times, poetic." Marc Leepson: Chicago Tribune, Vietnam Veterans of America Veteran, and Vietnam magazine.
"This is a book about healing, understanding, and recognition, not pity. Ron's courage and persistence shine." Senator Bob Kerrey, USN SEAL Team Leader, Medal of Honor.
ISBN: 1-55750-989-1
Price: $34.95 Total each ($32.95 per copy, plus $2.00 S&H)
Order an autographed copy from:
Zaczek Enterprises
PO Box 1206
Elkton, MD 21922
Contact the author by EMAIL
---
---
---
---
---
Father, Soldier, Son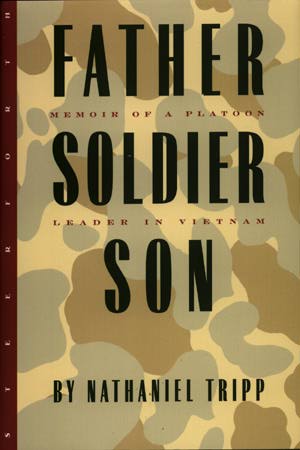 By Nathaniel Tripp
---
"Some of the best prose this side of Tim O'Brien or Tobias Wolff."

--Military History Quarterly

"Not since Michael Herr's 'Dispatches' has there been anything quite as vivid, gripping, and soul-searching."


--Washington Post

"The discriptions of combat in the jungles of Vietnam are authentic and terrifying, as good as any I have read in fact or fiction."


--Chicago Tribune

"'Father, Soldier, Son' will stand as one of the finest soldier memoirs of the Vietnam War."

--Boston Globe
---
Available in bookstores.
To order by Visa or Mastercard, please call: 1-800-639-7140
Steer Forth Press
---
---
---
---
---
Fields of Fire
By Michael Shapiro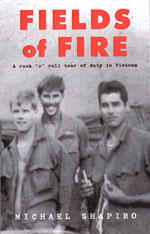 If you can find a little humor in war, this account tells of a bunch of guys beginning in the states, and then sent to Vietnam. It shares the things that have probably happened to all of us one time or another during our tours -things that you can relate to, but no one wanted to put in print. There is humor, misfortune, and a lot of personal feelings and experiences.
This fiction novel is based on Mike Shapiro's experiences of serving from October 1967 to October 1968 in the weapons platoon of Charlie Company, 1st Battalion, 18th Infantry, 1st Infantry Division.
ISBN: 09579528-6-4
---
---
---
---
---
The Firebirds

By Chuck Carlock
---
Chuck Carlock's tour as a helicopter pilot in Vietnam is recounted here with brutal frankness and graphic clarity. Even seasoned combat veterans will be astonished by the ferocity of the deadly new form of combat encountered by Carlock and his fellow pilots and crewmen - the Firebirds.
Early in his tour, Carlock concluded that he had no chance of returning from Vietnam alive - and with good reason. Of the twelve pilots in his gunship platoon, eleven were wounded and one was captured.
More than a collection of war stories, Carlock reveals his entire Vietnam experience, similar to that endured by thousands of young men and women - the humor, the frustration, the fear, and the loss of innocence. Hop into the copilot's seat and let Carlock take you back to the end of an era and put you in the middle of the action.
ISBN: 1-56530-197-8
Published by The Summit Publishing Group 1995
Autographed book is available for $15.00 plus $3.50 shipping from:
Co. A 501st Aviation Bn./ 1st AHC Association
6410 Fallbrook Drive
Garland, TX 75043-5921
Association Web Site: http://www.rattlers.bitshop.com
---
---
---
---
---
The Forgotten HERO of My Lai

By Trent Angers
---
Acadian House Publishing of Lafayette, Louisiana, has announced a Web Site dedicated to "The Forgotten HERO of My Lai - Hugh Thompson."
The Site features stories and articles on Mr. Thompson, who saved innocent Vietnamese civilians in the now-infamous My Lai Massacre in March of 1968.
Acadian House Publishing has also announced an upcoming book entitled "The Forgotten HERO of My Lai--The Hugh Thompson Story," which can be pre-ordered online.
Web Site: http://www.acadianhouse.com/hughthompson/index.htm
Brent Leger, B-C/UNITY MEDIA
1-(800)-466-9222, ext.1512
E-Mail: bleger@iname.com
---
---
---
---
---
Free Fire Zone
Airborne Press is pleased to announce that John Henry Lee's book, Free Fire Zone will appear in serial form on our website, http://www.airbornepress.com/. The first three Chapters are now on line. Mr. Lee, a two tour Vietnam Vet has written a fictionalized account of the Vietnam experience. This is the first in a trilogy according to Mr. Lee.
Free Fire Zone was originally sold to Manor Books over twenty years ago but was never published as Manor, like many publishing houses, disappeared from the radar screen in a merger. The book is free and a new part of it will appear every week or so.
The book's audience is not the Vietnam vet as he/she knows how it was. The audience are non vets or interested persons who wants to learn and know more about the Vietnam war.
Airborne Press is dedicated to promoting the welfare of the Vietnam vet and his family and this is another attempt. We think if individuals can read a novel which conveys the horrors of war and the transformation of young Americans into a "kill or be killed" mentality, all at the behest of their country, then the Nation will understand the unusual debt owed to valiant warriors. We hope you'll visit our site and see our offerings. Free Fire Zone will be available soon in PDF format for downloading from Amazon and will be a POD (print on demand) book after the serialization. Please help us get the Vietnam story out by telling your friends, family, and acquaintances. Thank you and God bless you.
Brooke Jackson
Operations Officer and Webmaster
---
---
---
---
---
Frenchy's Whore
By Vernon E. Brewer II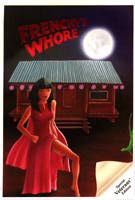 ISBN: 1-55787-121-3
Known Retail Price: $12.00, includes S&H
Book Orders:
NAM VET-BOOK
PO Box 735
Seneca Falls, NY 13148-0735
---
"The grueling march through the jungle to reach and climb Hill 522 will leave you drained as if you had climbed the hill yourself. But then, perhaps some of you did. What the men of A CO, 4/503 Infantry experienced on that day in November, 1968, is what the author has so vividly recounted in his book and with the credence that only a 'Herd' member who was there could provide...
"Vernon Brewer has provided (us) with a book that reveals how the men in the 173rd Abn. Infantry Battalions lived their lives in a war they did not understand but were willing to die trying.
"FRENCHY'S WHORE is not a misnomer--it is the best book written to date that epitomizes what the 173rd Abn. Brigade was and still is. If you have not read it, I suggest that you do."
Tim Stout,
Editor, Sky Soldier Magazine,
and Contributing Editor, Static Line Magazine
---
---
---
---
---
God In The Trenches
A History Of How God Defends Freedom When America Is At War
by Larkin Spivey

Larkin Spivey is an author, decorated Marine Corps veteran officer, and former professor of military history. He was with the American blockade force during the Cuban Missle Crisis, commanded infantry and reconnaissance units in Vietnam, and served in the White House during the Johnson and Nixon administrations.

Spivey provides gripping accounts, backed up by credible historical evidence, that the history of the United States was swayed many times by a hidden hand.

God In The Trenches is available at fine bookstores everywhere.
Volume discounts are available for churches, schools, groups and other organizations.

To order a copy now:
Call toll-free, 1-866-887-1900, between 8:00 a.m. and 5:00 p.m., EST.

or

Write to:
Allegiance Press
11350 Random Hills Road, Suite 800
Fairfax, VA 22030.

Please include $13.99, plus $1.75 shipping/handling.
Orders must be prepaid. No billing. We accept major credit cards.

You may also purchase God in the Trenches from Amazon.com or Barnes & Noble.
---
---
---
---
---
Grief Denied: A Vietnam Widow's Story
by Pauline Laurent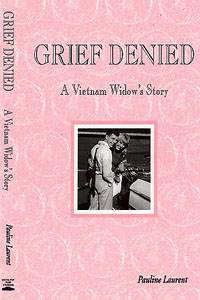 Grief Denied: A Vietnam Widow's Story, is the first widow's book to come out of the Vietnam war. It tells the riveting story of how the author came out from under the suffocating weight of her own silence to find personal expression, a sense of liberation, and a renewal of faith. This book is a deeply moving, inspirational memoir which will provide and promote healing for the unresolved grief still haunting many Americans.
Paperback, 5.5 x 8.5
232 pages, $14.95
ISBN: 0-9671424-0-7
Pub. Date: November 11, 1999
---
---
---
---
---
Highway One: A Vietnam War Story
by James E. Davidson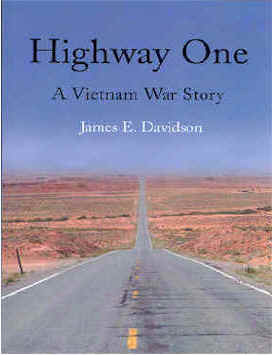 An offbeat satire about American military advisors in cultural conflict with the people they were sent to help. This is a sometimes funny, sometimes tragic, but always thought provoking ┐war story└ about the ┐Vietnamization└ of the United States┌ war effort in Vietnam. It will leave you with an uneasy feeling as we enter ┐America┌s New War└, and become entangled in long term commitments of our young military men and women in cultures so unlike our own.
Highway One: A Vietnam War Story is a story about a young Army lieutenant who is sent to a small village during his last fourteen days in-country to build a rifle range for the local Popular Forces as part of the Vietnamization Program. It is a story about a short-timer who only wants to put in his time and get home safely, but his simple mission is complicated by Pentagon planners and a beautiful young woman in the village who is mysteriously close to the local Viet Cong.
Highway One: A Vietnam War Story is also a story about cultural conflict. It looks at the role of American military advisors in Vietnam, the forerunners of themen and women who are becoming more involved in foreign policy around the world today. It shows how Americans lack the one thing most ┐third-world└ cultures have when it comes to fighting and winning a war - the concept that war will proceed at its own pace.
Price: $14.95
ISBN: 0595196543
---
---
---
---
---
Honor The Warrior
The United States Marine Corps In Vietnam
By William L. Myers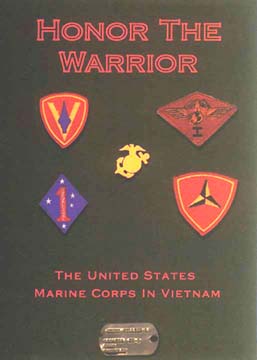 ---
Honor The Warrior is a collection of first person accounts of Marines in combat in Vietnam.
The author will inscribe each book, as you desire if you desire. It is his hope that everyone whose name appears in the book will have a chance to read it.
Redoubt Press, 294 pages, map.
COST: $25.00 plus $3.00 S&H
ORDER:
William L. Myers
183 Steiner Road, #117
Lafayette, LA 70508-6000
CONTACT:
William L. Myers
---
---
---
---
---
G(eneral) I(ssue) Blues, Viet Nam to Here:
A Warrior's Tour
By Captain Sonny Gratzer, Ret.
---
Sonny was medically retired in 1968 with severe wounds and earned the SS, SM, BSw/v&OLC, and PH w/2OLC.
Sonny's book of poetry was published Veterans Day 1997 in Butte, MN. "G.I. Blues..." is a moving, gutty, realistic book of experiences related to Vietnam, Sonny's war, and his injuries. Sonny was the best of the best as a company commander (2/2nd Mech.Inf, 1st Inf Div).
This book is published by:
Heartland Journals
Box 9292
Missoula, MT
Telephone: 1-800-588-9492
Cost is $13.00 Total per book -- ($10.00 each copy, plus $3.00 S&H)
---
---
---
---
---
Hunger of the Heart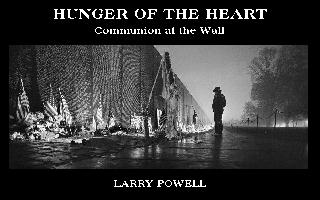 By Larry Powell,
Vietnam veteran and
Award-winning photojournalist
A book of photojournalism on the Vietnam Veterans Memorial, documenting those who come and the gifts they bring. His photographs are valuable and rich because he preserves the environment in which the gifts were recorded - the Wall, the people, the gifts are one.
Here are five pictures from Larry's book.
Retail Price: $18.95, plus S/H
(see "Book Review" for ordering information)
Immediate Orders: 1-800-557-9867
ISBN: 0-9641919-4-6
---
---
---
---
---