(860) 423-9242 fax
---
Dues: A Novel of War and After
By Michael H. Cooper
In Dues: A Novel of War and After, Vietnam veteran Michael H. Cooper movingly tells the story of a young man drafted out of a factory job, and thrown into the traumas of the battlefield and post-war stateside homelessness. His story represents one of America's most traumatic legacies from its war in Vietnam--that of a generation of men, marked by war and left to cope with its aftermath, alone.
"Cooper's writing is nearly flawless in its immediacy and attention to detail and Dues will often leave readers stunned and shaken. Thorne is a compelling, candid narrator, and no matter how angry or directionless, readers will refuse to abandon him." -- Publishers Weekly
"Here, in focused chapters, complete in themselves yet unified by tone, Cooper gives vivid portraits of the people in the Vietnamese landscape....Hundreds of adjectives could be used to describe this novel: calm, lyrical, poetic, sensitive, tender....All seem like misnomers. All fit." -- Kirkus Reviews
"Curbstone Press is recognizing the 20th anniversary of the end of the war in Vietnam with this apocalyptic story of what really happened to Vietnam veterans when they returned. It is a novel to read and remember." -- John Jacobs, author of Long Ride Back
Michael H. Cooper is a Vietnam War veteran. He currently lives and works in Alaska.
ISBN 1-880684-19-5 / $11.95 paper / 240pp Ordering Information
---
Playing Basketball with the Viet Cong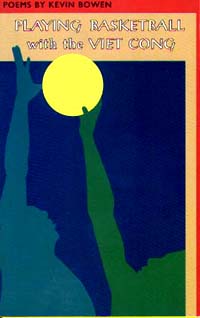 Poems By Kevin Bowen
Foreword By Carolyn Forché
Kevin Bowen was drafted and served in the U.S. Army in the Vietnam War during 1968-69. He has since returned to Vietnam numerous times and currently serves as Director of the William Joiner Center for the Study of War and Social Consequences at the University of Massachusetts at Boston.
"And it's only by reading books like Playing Basketball with the Viet Cong, and by commmunicating with ourselves and others, that we can begin or continue the healing process, and learn how to transcend our memories through the Art of Forgiveness, both in ourselves and in those we fought." -- Left Curve

"Playing Basketball with the Viet Cong is surely one of the most vibrant, most stirring, and most heart-breaking collections of poetry to emerge from the Vietnam War. Kevin Bowen offers up indelible images of both war and peace--the Vietnam of nightmare and the Vietnam of waking reality." -- Tim O'Brien, author of Going After Cacciato, winner of the National Book Award.

"Beautiful. . . . Bowen captures the spirituality of Vietnam." -- Oliver Stone
ISBN 1-880684-20-9 / $10.95 paper / 72pp Ordering Information
---
Rumors and Stones: A Journey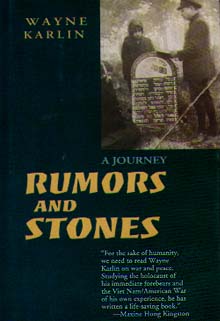 By Wayne Karlin
"In the summer of 1993 I began a self-imposed journey into the blurred space between memory, story, and reality when I rented a car from Warsaw Avis and drove to the village in Poland in which my mother had lived before immigrating to the United States."
So begins Wayne Karlin's Rumors and Stones, the haunting narrative of a writer's journey into his past in a small Polish town of Kolno whose two thousand Jewish inhabitants were machine-gunned in ditches in 1941. Karlin explores the tension in the role of the story-teller as a witness and keeper but also as shaper; it is a journey in space that becomes a journey into the past and into the truth that can only be found in the imagination; it is a journey into Karlin's own origins as a veteran of the Vietnam war and as a writer compelled in his work to always come back to that conflict and the net of connections from it he feels like a "cicatrix just under the skin of the brain."
"I think that Wayne Karlin has more of a feel and understanding of the language than most poets I know." -- Lucille Clifton

"The weakest writing about war and atrocities simply reiterates what we already know, but the best of it illuminates what we need to know and how it must be expressed, which is what this book is about. Karlin is one of our finest writers, and Rumors and Stones is the latest evidence of that fact." -- George Evans
ISBN 1-880684-42-X / $19.95 paper / 250pp Ordering Information
*******************************
The author of four novels, Karlin also co-edited the first anthology of Vietnam veteran fiction, Free Fire Zone.
*******************************
Wayne Karlin is also co-editor, with Le Minh Khue and Truong Vu, and contributor to:
The Other Side of Heaven: Post-War Fiction by Vietnamese and American Writers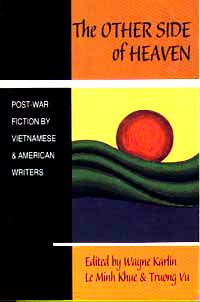 "This book was born out of the meeting of two people who, if they had met two decades previously, would have tried to kill each other," Wayne Karlin writes in his introduction.
&quotIn this remarkable anthology, the 'enemy' at last shares memories with us that we have never heard before.&quot -- Gloria Emerson
This book is moving in that it promotes peace and reconciliation. It is timely since in this 20th Anniversary of the end of the war in Vietnam, the moment is ripe for reconciliation and healing. It has heart, in that the royalties will be donated to a hospital in Hue.
Publishers Weekly called it &quotstunning in both scope and content.&quot American Library Association's Booklist commented: &quotThe structure of this unique anthology is tremendously effective: stories by American writers alternate with those by Vietnamese writers, and they relate to each other in ways both expected and quite startling. And the roster of writers is extraordinary.&quot
ISBN 1-880684-31-4 / $17.95 paper / 411pp Ordering Information
---
Shopping Cart Soldiers
A Novel By John Mulligan
"searing, revelatory, absolutely original!" -- Tillie Olsen
A young Scotsman, whose family, seeking economic opportunity, emigrates to the U.S., is drafted shortly after his arrival and sent into combat in Vietnam.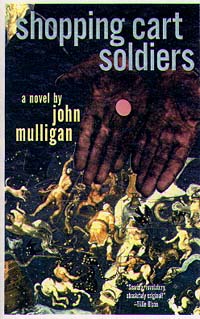 On his return, shattered by the inhumanity of the war in Vietnam, he suffers from Post-Traumatic Stress Disorder and ends up alcoholic and homeless on the streets of San Francisco, where, after a spiritual journey of healing, he re-integrates his personality and comes to terms with himself and his history. This is the story of Shopping Cart Soldiers, a heavily autobiographical novel by John Mulligan.
"Simultaneously hellish and hopeful, Shopping Cart Soldiers is a phantasmagoria that shuts down the option of avoidance regarding Vietnam. I was both moved and mesmerized by Mulligan's harrowing story." -- Wally Lamb, author of She's Come Undone

"Autobiographical detail provides potent fuel for this uncommon saga of a Vietnam vet's long, agonizing reorganization of the fragments of his war-torn psyche--a moving first novel from San Francisco-based Mulligan." -- Kirkus Reviews
John Mulligan was born in Kirkintilloch, Scotland, in 1950, into a home with ten children. After his family emigrated to the U.S., Mulligan was drafted. Within weeks of turning 18 and while still a British citizen, he was on his way to Vietnam. On his return to San Francisco from the war, he was homeless for ten years. During his recovery from alcoholism, Mulligan attended a veteran's workshop run by the celebrated author Maxine Hong Kingston, who recognized his extraordinary talent and helped him edit the manuscript of Shopping Cart Soldiers.
"This book is unprecedented in conveying the mythic truth of war. John's book, I believe, is the first to treat war and its aftermath as a mythic journey. When I read John's work, I dream about his characters. I'm amazed at the power of his writing." -- Maxine Hong Kingston
ISBN: 1-880684-48-9 / cloth / $22.95 / 244pp Ordering Information
---
The Stars, The Earth, The River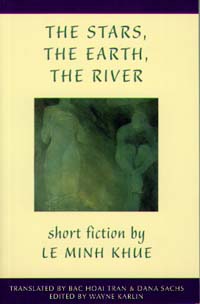 Stories By Le Minh Khue
Translated By Bac Hoai Tran and Dana Sachs
Powerful stories about the complex postwar struggles in Vietnam by a major Vietnamese author.
Although they concern such universal matters as love affairs, the tangles of family life, greed and ambition, "to understand my stories," Le Minh Khue wrote, "you should try to understand the history of revolution, war, and struggle that my country has gone through and out of which they grew."
Le Minh Khue is currently the chief fiction editor at the Vietnam Writers' Association Publishing House in Hanoi. A veteran of the American/Vietnam War, she served as a member of the Youth Volunteers Brigade (Sappers) and as a war correspondent for Tien Phong (Vanguard) and Giai Phong (Liberation).
One of the leading writers of Vietnam, her works include Summer's Peak, The Distant Stars, Conclusion, An Afternoon Away from the City, A Girl in a Green Gown, A Small Tragedy (1993), and Collected Works (1994). She was the co-editor, with Wayne Karlin and Truong Vu, of The Other Side of Heaven: Postwar Fiction by Vietnamese and American Writers, published by Curbstone in 1995.
Book #1 in the Voices from Vietnam series of contemporary fiction edited by Le Minh Khue, Ho Anh Thai, Wayne Karlin.
ISBN 1-880684-47-0 / $12.95 paper / 250pp Ordering Information