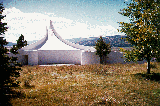 "ANGEL FIRE"
The Vietnam Veterans National Memorial
In Angel Fire, New Mexico
This Memorial is located in the beautiful Sangre de Cristo mountain range in Northern New Mexico. The Memorial was originally constructed by the family of Dr. Victor Westphall, whose son, David, was killed in a 1968 enemy ambush in Vietnam. It was maintained by the Disabled American Veterans (DAV); but, on November 9, 1998, ownership was transferred to the David Westphall Veterans Foundation.
---
"MAGICAL PLACE, MAGICAL HAPPENINGS"
Story and pictures submitted by Steve Stickley from the Veterans Day Gathering at Angel Fire, 1996. Mystical things do happen and the healing begins.
---
Pictures and stories from the 1996 Memorial Day Weekend at Angel Fire. The picture gallery will be added shortly. Ed St. Clair wrote this moving piece "Angel Fire 96" following his visit and meeting with his friends.
---
On 3-4 June, 1995, 17 members of VWAR-L , an internet-based forum consisting of Veterans, family, and friends, met at the Angel Fire Memorial to specifically honor three fallen comrades. The two sections following are tributes made during the ceremonies.
Here is Mary Garvey's beautiful song "Angel Fire" which she wrote and sang at the gathering
Dennis Koho's "Brothers" describes the feeling and compassion of the Angel Fire Memorial
John Rossie's moving opening and closing remarks to the gathering of the clan at the 1st Annual VWAR pilgrimage to Angel Fire.
Michael "V-man" Viehman's dedication poem, "The Others."
V-man read this poem during closing ceremonies at the 1st Annual VWAR gathering at Angel Fire, 3-4 June, 1995.
---
---
Read about John Rossie's winter trip to Angel Fire Here
---
These photographs were contributed by LtCol. Ed Miller, USMC (retired) and John Rossie.
---

---

---

---

---

---

---
Soon to be added: Background on the Angel Fire Memorial and Maps.
---

Revised 11-30-98 by DGSH

---